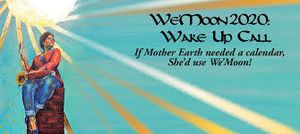 Hey, My People!!!
So I just got the news that "WeMoon" will be featuring my art "The Last Stand Of The Free Tribe Of Earth" and an excerpt from the song "Mama Gaia" in their 2021 Calendar!!!
---
It is an absolute dream come true for me, and I can't wait to see what they are going to do with it!!! I'm going to be putting up a link right here on my website so that you can order your own once they are released for sale!!! Let me know in the comments below if this excited you and if its something that you are interested in? 
About WeMoon: The WeMoon calendar is the most bad-ass, in reverence of the Lunar and Solar cycles and honoring of women's power, my absolute favorite datebook...ever... that I use for tracking my woman's cycles, my dreams, and daily activities as well as gardening info. I love that it is full of women's art and poetry and it celebrates the Great Earth Mother and all her cycles. If that's your kind of thing I highly recommend putting aside your current day planner and invest in one that teaches you about the cycles of nature and inspires you to tread lightly for the greater good of all living beings...yes no maybe so?
Well, off I go to celebrate with the fam and the farm beasties!
Bless!